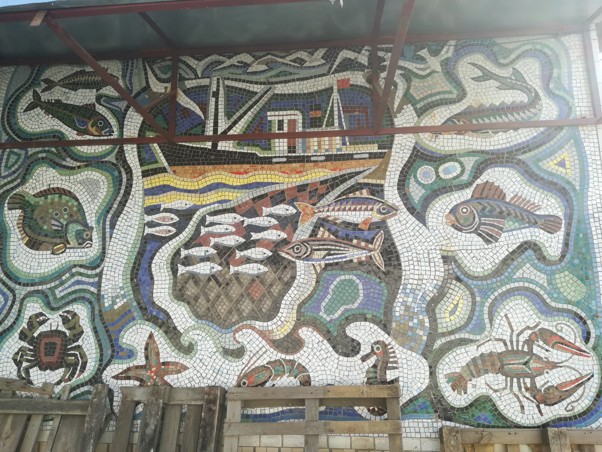 Store on the Central Market
On the front wall of one of the shops of the Central Market (4th row) in Mykolaiv, Mykolaiv region.

Composition size: height - 3 m, width - 4 m
The size of the modules: 1.4x1 cm
Technique and technology: direct set
Texture and relief: smooth
The main material for the manufacture of this mosaic was ceramic tiles. The color palette is diverse. The ship is placed in the center of the mosaic. The artist emphasizes it by highlighting it with bright colors: yellow and orange. From the ship extends a fishing net with ten small, lively white fish in it. Around the central composition, the artist placed an underwater world inhabited by: crab, starfish, crayfish, pike, shrimp etc. The color scheme of this part of the mosaic is cold. Blue, white and green colors are prevailing.
The state of preservation: good.
Photo: Iryna Lobodovska, 2020
Author: unknown artist