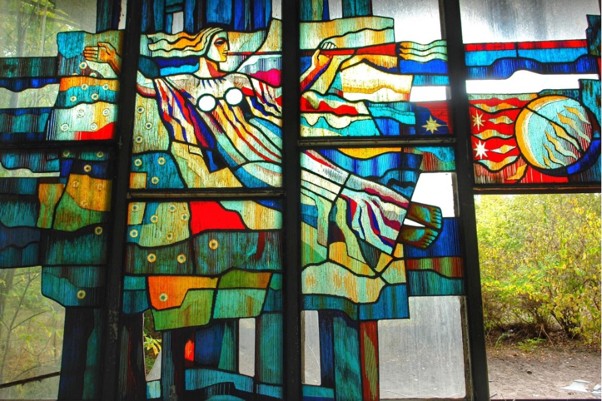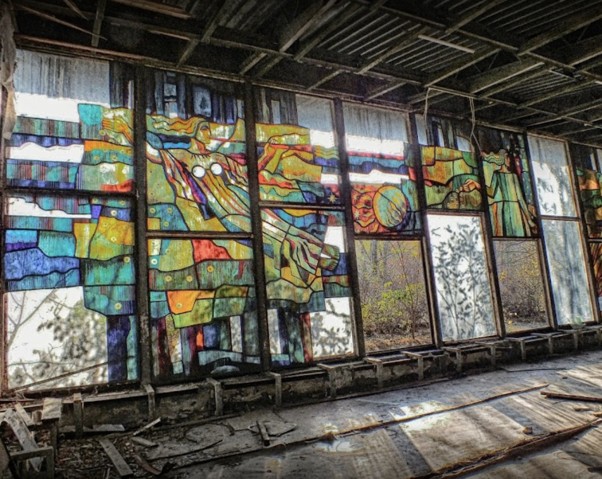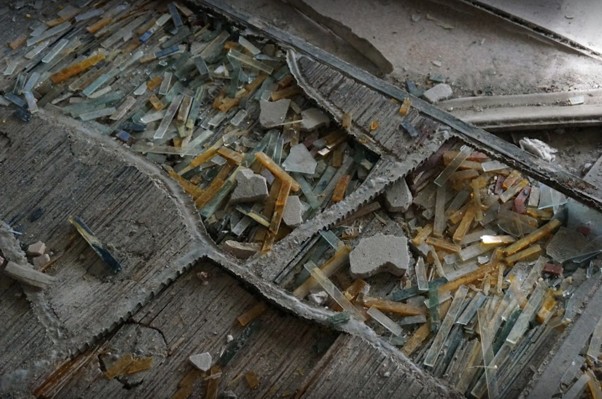 Stained glass in "Prypyat" cafe
Establishing the authorship of the stained glass window in former Pripyat cafe was a long and troublesome process. As it is now known, the author of the panels is Viktor Oleksandrovych Blinov, Kyiv artist, a monumentalist and painter, a member of the National Union of Artists of Ukraine (1987, now alive, lives in Macedonia).
This stained glass is made in a unique technique that creates a texture that cannot be achieved by following the rules of the classic stained glass technique. Glass strips of different lengths one and a half centimeter wide and three millimeter thick were mounted on the min panel surface - one or several layers of flat colored transparent glass, facing the main surface perpendicularly, close to each other, creating an incredible play of light and a combination of many colors.
This is a very complex technique in terms of the time spent on execution and the amount of materials (which were needed approximately 10 times more than for an ordinary flat stained glass window), which is not used anywhere in the world due to its high cost and labor intensity.
You can see the state of the stained glass in the photo.
Author: Viktor Oleksandrovich Blinov
Photo: Oleksandr Syrota
Text: Lala Tarapkina, edited by Oleksandra Shchur
Author: unknown artist