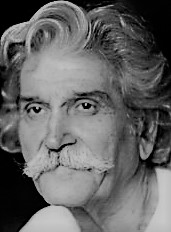 Kuzminkov Lel
Kuzminkov Lel
1925-2012
Lel Mykolayovych Kuzminkov was born in 1925 in the Ukrainian city Mariupol (Zhdanov).
From 1947 to 1951 he studied at the Kharkiv Art School. His teachers were: Mykola Slipchenko, Lev Fitilov, Petro Shigimaga.
He worked in the field of painting, monumental and decorative arts, book graphics. Since 1960 he has been a member of the National Union of Artists of Ukraine.
He created mosaics in Mariupol, Slovyansk, Artemivsk, Berdyansk, and Urzuf. He co-authored with Valentin Konstantinov. "Harvest Festival" in Urzuf considered being their first work in 1967. Among the well-known Mariupol decorative mosaic panels are: interior mosaic "Metallurgists" in the railway station, the panel "Youth" at the school №34 in Mariupol. The large scale (100 sq.m.) exterior multi-figure mosaic composition "People of Tyazhmash" on the facade of Azovmash factory in Mariupol contains such decorative panels as "Motherhood", "Study", "Work", "Sport".
He died in Mariupol in 2012.