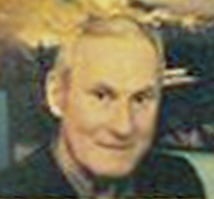 Petro Orel
Petro Orel (1931-2004)
The artist was born in Nizhyn, Chernihiv region.

In the postwar period, he worked on the wall paintings of St. Vasil's Church. He depicted the saints in a realistic style, but with slightly elongated forms, which gave them majesty and monumentality.

Petro Orel worked as a decorator at the Nizhyn Drama Theater. He also created a series of paintings called "Nizhyn Girls".

As a designer, Petro Svyrydovych painted the interioors of the room-museum of Mykola Hohol at the Nizhyn State Pedagogical Institute named after Hohol.

In 1951, the Chernihiv Regional Society of Artists was founded, and Petro Orel became one of its most active members.
In 1953, he entered the Chisinau Art School. After graduation, the artist worked hard, created murals, monumental mosaics, painted to order and participated in exhibitions.

In 1961, a personal exhibition of the artist's works was held in his native Nizhyn.

In early May 2004, Petro Svyrydovych donated some of his works to the Local Nizhyn Museum.